Some say Norwegian food is boring old meatballs and boiled fish. Not true. Here are some recipes and ideas for you to discover the wonderful Norwegian culinary heritage.
Christmas 2010
Christmas in Norway is a lot about celebrating the return of longer days, and what better way of celebrating that than with lots of good food and drink!
Chritsmas dinner is enjoyed on Christmas eve, which is when all the presents are also opened (which leaves ALL of Christmas day to slob about and play with your new toys). My Christmas dinner is bellypork on the bone, which I'll get back to later, but first the side dishes need to be prepared.
Luckily two of the more important ones can be made days in advance; red cabbage and sauerkraut. The recipe for red cabbage comes from the Culinary Institute of Oslo, and I've used it every year without fail. You can swap some of the dried fruit for fruits of your choice – dried dates and apricots go well for instance (just make sure you chop them).
1 red cabbage
2 apples, peeled and sliced
5 dl red wine vinagre
2 dl red wine
5 dl orange juice
1 dl raisins
1 dl dried figs, chopped
4 cloves
1 small cinnamon stick
1 onion
100 g duck fat or butter
5 dl chicken stock or water
Salt
Demerara sugar
Black pepper
Finely slice the red cabbage, use a julienne slicer if you have one. Throw it into a LARGE bowl together with everything but the onion, duck fat, sugar and pepper and let it marinade overnight.
Soften the finely chopped onion in the duck fat, add everything else and let it simmer until done. This could take a few hours. Add sals, sugar and pepper to taste.
Sauerkraut
Again, super simple (even simpler than red cabbage) side dish which makes a big difference.
1 cabbage
2 apples
2 teaspoons salt
1 tablespoons caraway seeds
2 ½ dl dry white wine
1-2 tablespoons vinegar
1-2 tablespoons sugar
Finely chop the cabbage, peel and slice the apple, chuck it all in a saucepan and mix, add wine, simmer covered for about 45 minutes. Add vinegar and sugar to taste. Simples!
Bellypork on the bone – the piece de resistance!
It's really easy, it's really succulent, it's really luxurious – and it's really cheap. Ask your butcher to get a piece of bellypork ON THE BONE, as bellypork in the UK is always a cut without the ribs in place. Also ask him or her to cut the ribs crossways two or three times to make serving it into pieces easier (the serving pieces should be square-ish rather than long, like your bbq ribs).
Season with salt and pepper a couple of days before cooking (if you can). To cook it you need a large roasting tin which you fill with 2dl of water. Put the pork in crackling side up, cover with foil and cook for 30 minutes on 230 degrees. Turn down to 200 degrees, remove foil and keep cooking for 1.5 hours. Rest for 20 minutes. If the crackling doesn't come up, cheat with the grill. But be careful not to burn it.
Throw in a few sausages for the past 20 minutes or so if you want some, a few slices of apple and some prunes too. Serve with the red cabbage and saurekraut and some freshly boiled potatoes. Absolute bliss, I promise you!
And to drink? Why -CHAMPAGNE! No, really. Champagne or other dry bubbly goes really well. And, if you can get your hands on it, Aquavit. MERRY CHRISTMAS EVERYONE!

Chritsmas sweets
Christmas puddings and cakes are nice, but can be overwhelming. I like to make lots of smaller treats, like these chocolate-covered dates (or other dried fruit):
Chocolate-covered dates
Melt a plate of white chocolate, put it in a food piping bag and nozzle (make one out of baking paper) and squirt out christmas tree shapes/stars/whatever, onto a sheet of baking paper. If you can find them in the baking section of your supermarket, drizzle tiny gold stars over the trees. Leave them to settle (might need to be left overnight).
Melt a plate of GOOD dark chocolate, cover as many dried dates (or other dried fruit) as you can and put on a plate covered with baking paper. When the chocolate has cooled down a tad, lie (or try to stand) the white chocolate shapes on top. Hey presto! A fab looking treat which really is no effort at all. Yum.

Marzipan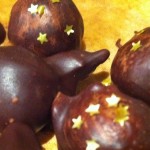 Marzipan is perhaps the easiest sweet recipe ever. Equal amounts ground almonds and icing sugar, bound together in a dough by a bit of egg white. You should also add a teaspoon of tragacanth (or tragant) which you can usually buy in pharmacies in Norway. I haven't looked for it over here in the UK yet, and thought I'd try to make marzipan without.
The result was a somewhat dry dough, which I solved by adding a few drops of vanilla extract. Smooth dough – even better taste! You do with the marzipan what you like, of course. I rolled it into little balls, covered them in dark chocolate and drizzled over some gold stars.
A Norwegian Christmas delicacy is marzipan pig… as big as you like. Not sure where that tradition came from, but I certainly subscribe to it!